The winners of the global Prize in 2008-09 were :
Elise Pellerin and Marie Crépin Casimiro, both French – 1st prize ex-aequo
Elise Pellerin reached Finance from divergents ways. A farmer's daughter, she decided to study Philosophy, and she obtained a degree at the University of Tours (France), and a Masters at the Catholique University of Lyon (France). Her works concerning the civilisation theories of Simone Weil (1909-1943), her reflexions on the heritage and the French and European collective values made a perfect fusion with her work experience and reflection. After working as an employee for a French bank, Elise joined Ethiea Gestion, a French portfolio management company which centers its work on ethical and behavioural analysis of different societies. Elise decided to participate in the Second Edition of the Robin Cosgrove Prize because she thought that it would be a fascinating intellectual challenge, and because she admired the Jury members' profiles.
Marie Crépin passed her childhood travelling as part of a military family. One period of two years in Africa, and the studies at the military school helped herself to question the notion of "service for the common good". Lawyer by training (Master II at the Assas-Paris II University), Marie focused her final thesis on Law History, particularly of the Right of Public Finances at the time of the "Ancien Régime". This subject, which directly implied the notion of the common good through the new born notion of taxation, helped her to reflect on the direct application of this theme on contemporary societies. In 2007 she started to work for Ethiea Gestion, a portfolio management enterprise which centers its work on an ethical and behavioural analysis of different societies. She trained as a portfolio manager, and assisted the team of Ethiea Gestion in its commercial development, particularly concerning religious congregations. Marie decided to participate in the Second Edition of the Robin Cosgrove Prize because she thought that winning the Prize could have positive consequences for herself and her company.
Geoffrey See, from Singapore – 1st prize ex-aequo
Geoffrey K. See has a strong interest in business ethics and governance research. He is currently director of Choson Exchange, an organization promoting academic exchange with North Korea. He is also a management consultant at Bain & Co. Geoffrey founded two non-profits specializing in community healthcare and youth unemployment, which were awarded prizes at the World Bank Annual Bank Conference and the World Business Dialogue. He also worked as a researcher at the World Economic Forum and his research has been published in the Journal of Business Ethics. Geoffrey was University Fellow at Yale University where he graduated with an M.A. in East Asian Studies and graduated in 2.5 years with a Bachelor of Science in Economics (Summa Cum Laude) from the Wharton School.
Meredith Benton, of USA – 2nd prize

Meredith Benton gained her MBA at INSEAD in December 2009. Prior to INSEAD, she worked in socially responsible investing and corporate accountability for over 8 years, first as an environmental consultant then as the Associate Director of Social Research at Walden Asset Management. She is interested in ways to effectively leverage capital to encourage sustainable social, environmental and economic improvements. Meredith commented "I was personally and professionally interested in how or why people prioritize or lower their personal values or morals in the workplace. While I had never studied psychology, the Prize incentivized me to look into this topic in a more structured way."
David Sifah, from Ghana – Special Commendation from the Jury

David Kojo Sifah come from Kumasi Asokre, a village in the ashanti region of Ghana. He had a degree in civil engineering at the Kwame Nkrumah University of Science and Technology and is currently a graduate student of the Paris Graduate School of Management, where he is attending an International Executive Master of Business Administration (IEMBA) in International Business. During his career, David worked as an environmental consultant for Aya Consults, then he worked for Standard Chartered Bank Ghana. David works as a customer advisor at the retail unit for Barclays Bank in Accra, Ghana. David's comments for the Special Commendation was "I entered this competition because I felt there was a lot of me and of my ideas which was yearning to come out. I wanted that a vast auditorium could be able to hear my contribution concerning ethics and finance; I also loved very much the research work and the idea of a competition for the best works."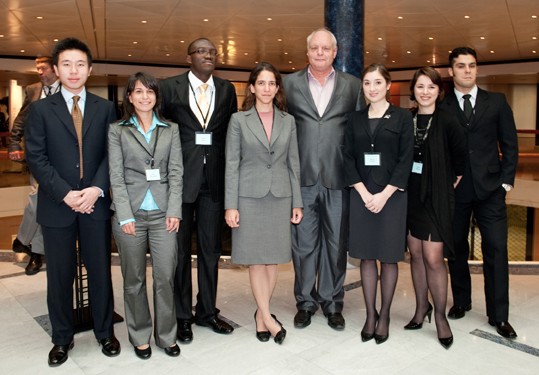 THE IBEROAMERICAN PRIZE WINNERS:
Leire San Jose from Spain – 1st prize
Leire San-Jose is Associate Professor in Finance at the University of the Basque Country (Bilbao, Spain). She is a BA Business Studies graduate of the University of the Basque Country and holds a postgraduate diploma in Research Methods for Business and Social Sciences (Finance area). She completed her PhD about Corporate Cash Management and Information and Communications Technology in January 2006, receiving the University of the Basque Country?s Special Award for the Best Thesis. Leire has been a Visiting Research Fellow in the University of Huddersfield Business School in United Kingdom since 2007. She works with Professor Chris Cowton and is attached to the Financial Ethics and Governance Research Group. During January 2008 she was a Visiting Scholar at Loyola University Chicago (United States) under the supervision of Professor John Boatright. She likes sports as skiing, scuba diving, climbing, roll-skating, and swimming. 
Felippe Araujo from Brazil – 2nd Prize
After receiving his Bachelor's diploma in International Relations at Universidade de Brasilia, Felippe Araujo was granted a Japanese government scholarship to pursue his Master's degree in Economics at Nagoya University, Japan. Throughout his career, he served at the US Department of Commerce, the Brazilian Ministry of Foreign Affairs and the UN ECOSOC in New York. Recently, he has contributed to projects in public debt management and hedging against political risks. Felippe is fluent in English, French, Japanese and Portuguese, and currently works as a Sales Associate for a trading company in Japan while looking for an opportunity in Finance.
The Prizes attracted an excellent response in 2009, with some very high quality papers. After very thorough reviews and discussions, the Jury short-listed a group of 8 papers as Nominees for the Ethics in Finance- Robin Cosgrove Prize: