Strategic Partners
Strategic Partners are the most important sponsors of the competition by making financial contributions in the range of 50'000 euros per edition (25'000 per year). They are fully-fledged partners, leveraging the outreach of the competition globally and taking part in the governance of the Prize. We invite Strategic Partners to commit for a 4 years term (2 editions) to support the sustainability of our activities.

CFA Institute is the global association of investment professionals that sets the standard for professional excellence and credentials. The organisation is a champion for ethical behaviour in investment markets and a respected source of knowledge in the global financial community. Our aim is to create an environment where investors' interests come first, markets function at their best, and economies grow. There are more than 150,000 CFA charterholders worldwide in more than 165 countries and territories. CFA Institute has eight offices worldwide and 149 local member societies. For more information, visit www.cfainstitute.org, follow us on Twitter at @CFAInstitute and on Facebook.com/CFAInstitute.

Euroclear Group is the financial industry's trusted provider of post trade services. At the core, the group provides settlement, safe-keeping and servicing of domestic and cross-border securities for bonds, equities and derivatives to investment funds. Euroclear is a proven, resilient capital market infrastructure committed to delivering risk-mitigation, automation and efficiency at scale for its global client franchise. The Euroclear group settled the equivalent of EUR 675 trillion in securities transactions in 2015, representing 191 million domestic and cross-border transactions. In the first half of 2016, the group held EUR 27 trillion in assets for clients.

Headquartered in Geneva, the Pictet Group is a partnership of eight owner-managers, with principles of succession and transmission of ownership that have remained unchanged since its foundation in 1805. We offer clients wealth management, asset management, alternative investment solutions, and related asset services. With more than 5,000 employees, Pictet is one of the leading Europe-based independent wealth and asset managers for private clients and institutional investors. As a firm, we consider the complex interactions between the economy, society and the environment and believe that Environmental, Social and Governance (ESG) considerations can help us make better long-term investment decisions.

SWIFT is a global member-owned cooperative and the world's leading provider of secure financial messaging services. Its messaging services are used and trusted by more than 11,000 financial institutions in more than 200 countries and territories around the world. SWIFT enables secure, seamless and automated financial communication between users. The cooperative offers a portfolio of innovative solutions that seek to address challenges faced by the global financial community, to reduce risks, eliminate costs and increase efficiencies.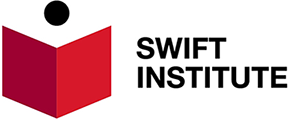 The SWIFT Institute funds independent research, supports knowledge-led debate and provides a forum where academics and financial practitioners can learn from each other. An independent hub for cutting-edge research, the SWIFT Institute unites academic study with the practice of global finance to bolster the spread of big new ideas. Through the funding and publishing of a broad range of new research, it encourages collaboration and serves to bridge the gap between thought leaders in finance and academia.