The three winners of the first Robin Cosgrove Prize were:
Ms. Clare Payne, from Australia – 1st prize ex-aequo
Clare Payne completed a Bachelor of Laws and a Bachelor of Communications at Macquarie University, Sydney Australia. Upon Graduation, she specialised in Employment Law working for a large commercial law firm. She then moved to an in-house legal position and now manages the Integrity Office of Macquarie, an Australian Investment Bank. Clare Payne is a Vincent Fairfax Fellow for Ethics in Leadership; she was awarded Macquarie Volunteer of the Year in 2006 and Future Summit Leadership Awardee 2005. Clare is on the Board of Life Education Australia. Clare Payne is an accomplished marathon swimmer. She is the only person to have swum solo from Coogee Beach to the Sydney Opera House.
Mr. Jonathan Wisebrod, from Canada – 1st prize ex-aequo
Jonathan Wisebrod is a Director of VILLARI, a boutique financial consultancy based in Singapore (www.VILLARI.sg). VILLARI assists foreign companies with their business in Singapore and advises individual and corporate clients on investment matters, including socially responsible investing. Previously, Jonathan Wisebrod served as the Vice President of Capital Markets for a multibillion dollar private investment company in Singapore and as an Attorney in the Capital Markets Group of a global law firm based in New York. He is a Chartered Financial Analyst and a member of the New York Bar. He holds an MBA With Distinction from INSEAD in Singapore and an LL.B from Osgoode Hall Law School in Toronto. Jonathan Wisebrod is Canadian and resides in Singapore.
A special Prize Raiffeisen awarded to Ms. Rania Abdul Rahim Mousa, from Egypt 
Rania A. Mousa is an Egyptian citizen, holder of an undergraduate degree in Accounting from the American University in Cairo, Egypt. She also holds an MBA degree with double specialisation in Finance and International Business from Stuart School of Business, Illinois Institute of Technology, Chicago, USA. Rania A. Mousa was pursuing a PhD degree in Accounting at Birmingham Business School, University of Birmingham, United Kingdom. Her dissertation identifies and examines the scope of adoption of one of the latest technological advances in the field of electronic financial reporting, with focus on the experience of selected British adopting organisations. She worked extensively for several financial and academic institutions in Chicago (USA), Cairo (Egypt), and Kuwait. However, her major goal is to pursue a career in academia and research.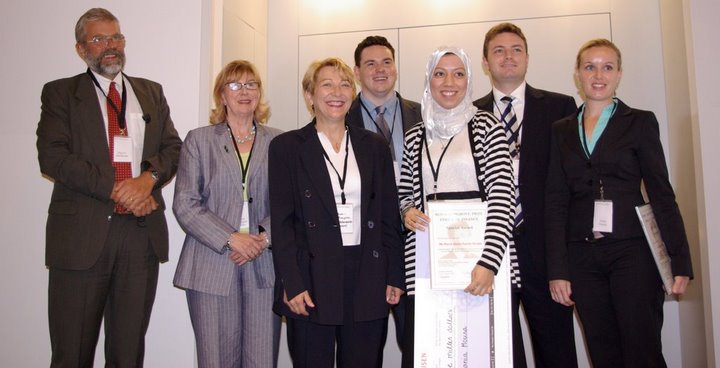 The evaluation process by a distinguished international Jury, with experts from the academic and from the professional world, was anonymous. After thorough reviews and discussions, the Jury members short-listed seven papers, one of which was jointly written by two young people. The Nominees came from Australia, Canada, Egypt, England, India, Kenya, Pakistan and Spain.